Sarasota, Florida, known for its stunning coastal beauty and picturesque waterways, is the perfect destination for those seeking a nautical adventure. Whether you're a local looking to explore the city's water bodies or a visitor eager to experience the magic of the Gulf Coast, Sarasota offers a wide array of boat rental in Sarasota options.
In this blog, we'll explore the types of boats available, factors to consider when choosing a boat rental, different areas where you can find boat rental in Sarasota, and the average costs associated with this maritime experience.
Types of Boats Offered For Boat Rental In Sarasota
Sarasota offers a wide variety of boats for rent, ensuring that there's something to suit every taste and purpose. Whether you're interested in a leisurely cruise, a fishing expedition, or an adventurous day in the water, you'll find options such as:
Pontoon Boats: Pontoon Boats in Sarasota are an excellent choice for a laid-back family outing or a serene sunset cruise along Sarasota Bay. These boats are characterized by their spacious and stable design, ensuring a comfortable and safe experience for all passengers. Their ample deck space provides room for picnics, sunbathing, and socializing, making them an ideal option for a relaxing day on the water.
Speedboats: For the adventure-seekers, speedboats offer an exhilarating experience. These vessels are perfect for those who crave the rush of the wind in their hair. Sarasota's waterways are ideal for various water sports, including water skiing and tubing, and speedboats are well-suited for these activities. Whether you're a watersports enthusiast or just seeking a thrilling ride, speedboats won't disappoint.
Fishing Boats: Sarasota's rich marine life makes it a haven for anglers. If fishing is your hobby, you can rent different types of fishing boats, such as center consoles and offshore vessels. These boats are equipped with the necessary gear and technology to enhance your fishing experience, ensuring you have an exciting and successful day out on the water.
Sailboats: If you prefer a tranquil and eco-friendly boating experience, renting a sailboat in Sarasota is a great choice. These vessels allow you to explore the Gulf of Mexico or Sarasota Bay at your own pace, harnessing the power of the wind to move gracefully through the water. It's a peaceful and environmentally friendly way to enjoy the scenic beauty of the region.
Yachts and Luxury Boats: For those seeking a touch of opulence, Sarasota offers high-end yachts and luxury boats that come with premium amenities. These vessels provide a lavish on-water experience, complete with spacious decks, comfortable cabins, and often a crew to attend to your needs. Whether you're celebrating a special occasion or simply want to indulge, a luxury boat rental is the epitome of on-water extravagance in Sarasota.
Factors to Consider When Choosing a Boat Rental in Sarasota
Choosing the right boat for your Sarasota adventure is crucial for a safe and enjoyable experience. Here are vital factors to consider when deciding on your boat rental:
Experience Level: When considering boat rental in Sarasota, it's essential to select a vessel that matches your boating expertise. Novices should opt for boats that are easy to handle, while experienced boaters can explore more intricate options. Prioritizing safety by choosing a boat suited to your skills ensures a worry-free and enjoyable day on the water.
Group Size: Your choice of boat rental in Sarasota should cater to the number of people in your party. Whether you're going with a small group or planning a family outing, ensure the boat can comfortably accommodate everyone. Overcrowding can not only be uncomfortable but also compromise safety, so choose wisely.
Duration: Boat rentals in Sarasota typically offer various rental durations, from hourly to half-day and full-day options. Consider how long you plan to be out on the water, as this impacts your overall experience and cost. Hourly rentals are perfect for a quick jaunt, while full-day rentals provide ample time for a more leisurely exploration of the area's waterways.
Activities: Sarasota offers diverse activities, such as fishing, water sports, and leisurely cruising. When selecting your boat rental in Sarasota, align your choice with your intended activities. If you plan to fish, ensure the boat has the necessary equipment; for water sports enthusiasts, choose a boat with towing capabilities; and for a relaxed day on the water, focus on comfort and seating arrangements.
Budget: Your budget plays a central role in your boat rental in Sarasota. Different boat types and rental durations come with varying costs. Consider your financial constraints and make an informed decision to ensure that your boat rental in Sarasota experience is not only enjoyable but also financially sustainable. Careful budgeting allows you to fully appreciate the beauty of Sarasota's waterways without overspending.
Different Areas Where You Can Find Boat Rental In Sarasota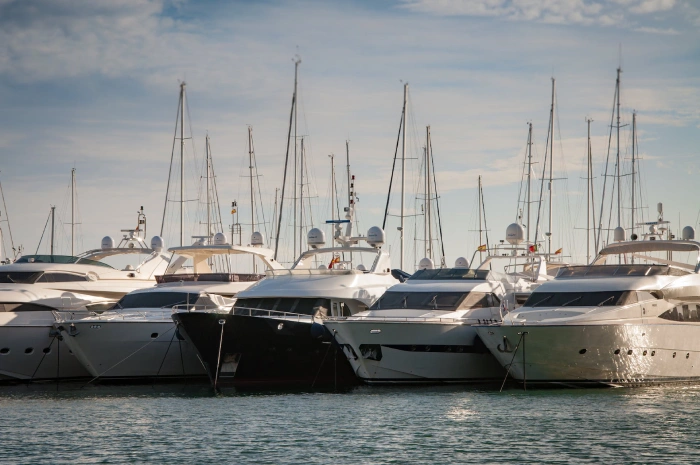 Sarasota offers several locations where you can find boat rentals, making it convenient for you to choose the one that best suits your plans:
Marinas: Sarasota is home to several marinas that offer convenient boat rental services. These marinas provide not only a wide selection of boats but also essential amenities like docking facilities and maintenance services, ensuring a hassle-free boating experience for visitors and residents alike. Marinas are often the go-to choice for those who want a one-stop shop for all their boating needs.
Resorts and Hotels: Coastal resorts and hotels in Sarasota often enhance their guests' experience by offering on-site boat rentals. This option caters to vacationers seeking convenience and luxury, as they can easily access boats without leaving their accommodation. It's a splendid way to explore Sarasota's waterways without the hassle of seeking external rental services.
Local Rental Companies: Sarasota boasts a vibrant community of local rental businesses specializing in boat rentals. These companies provide a diverse range of options, from kayaks to yachts, and often have a deep knowledge of the area's waterways. Local rental companies are great for those looking for personalized recommendations and a wide variety of vessels to choose from.
Online Platforms: In the digital age, finding and booking a boat rental in Sarasota has become easier with the help of online platforms and apps. These platforms connect boat owners with renters, making it convenient to browse different options and prices. Renting from private owners can offer unique opportunities and the chance to communicate directly with boat owners for a more personalized experience.
State Parks and Nature Reserves: For those who prefer a more nature-centric boating experience, Sarasota's state parks and nature reserves provide kayak and canoe rentals. Locations like Myakka River State Park offer the chance to explore the scenic waterways amidst untouched natural beauty. It's an excellent choice for adventurers and wildlife enthusiasts seeking a serene and eco-friendly boating adventure in Sarasota's unspoiled landscapes.
Average Costs of Boat Rental in Sarasota
The cost of boat rental in Sarasota varies depending on several factors. Typically, hourly rates for boat rentals range from $50 to $300. For those planning a full day on the water, expect prices to fluctuate between $250 and $1,000 or even higher. The variance in pricing is largely influenced by the type and size of the boat, as well as the amenities it offers. Therefore, it's essential to consider your budget and preferences when selecting a boat for your Sarasota adventure.
Conclusion
Sarasota, Florida, is a fantastic destination for boat enthusiasts, and finding the best boat rental is a breeze when you know what to consider. With a variety of boat types, stunning rental locations, and a range of prices to fit your budget, you're well on your way to an unforgettable aquatic adventure in Sarasota. Whether you're into fishing, relaxing on the water, or exploring the coast, boat rental in Sarasota has something for everyone. 
If you're looking for the ultimate boat experience in Sarasota, the Boat Concierge is your top choice. We offer professional boat services and unforgettable day trips. Contact us today to embark on your nautical adventure!