Glidecoat ceramic coating sarasota
Florida's harsh elements beat up your boat, causing scratches, fading, pitting, tarnishing, staining, water marks, and more—and that means your boat just won't look good anymore. Time to bring back your boat's showroom shine with Glidecoat ceramic coating!
What's Wreaking Havoc on Your Boat?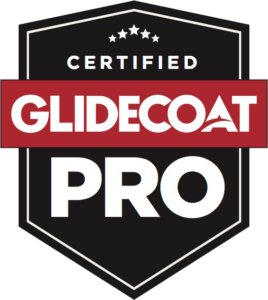 Glidecoat: The Ultimate Surface Protection
for Your Boat.
Glidecoat is a marine-grade ceramic coating that creates a hard protective barrier over gelcoat or paint, giving your boat a showroom finish that lasts up to 18 months. That's 3x longer than traditional waxing (which, let's be honest, we all know doesn't actually work that well anyway).
How Glidecoat ceramic coating Helps Protect Your Boat & Investment
• Restores and protects gel coat or paint
• Increases gloss and shine
• Repels water, fish blood, stains, dirt, and other harsh elements
• Reflects UV rays
• Inhibits rusting and tarnishing on polished metal
• Eliminates mold and mildew
• Increases the value of your boat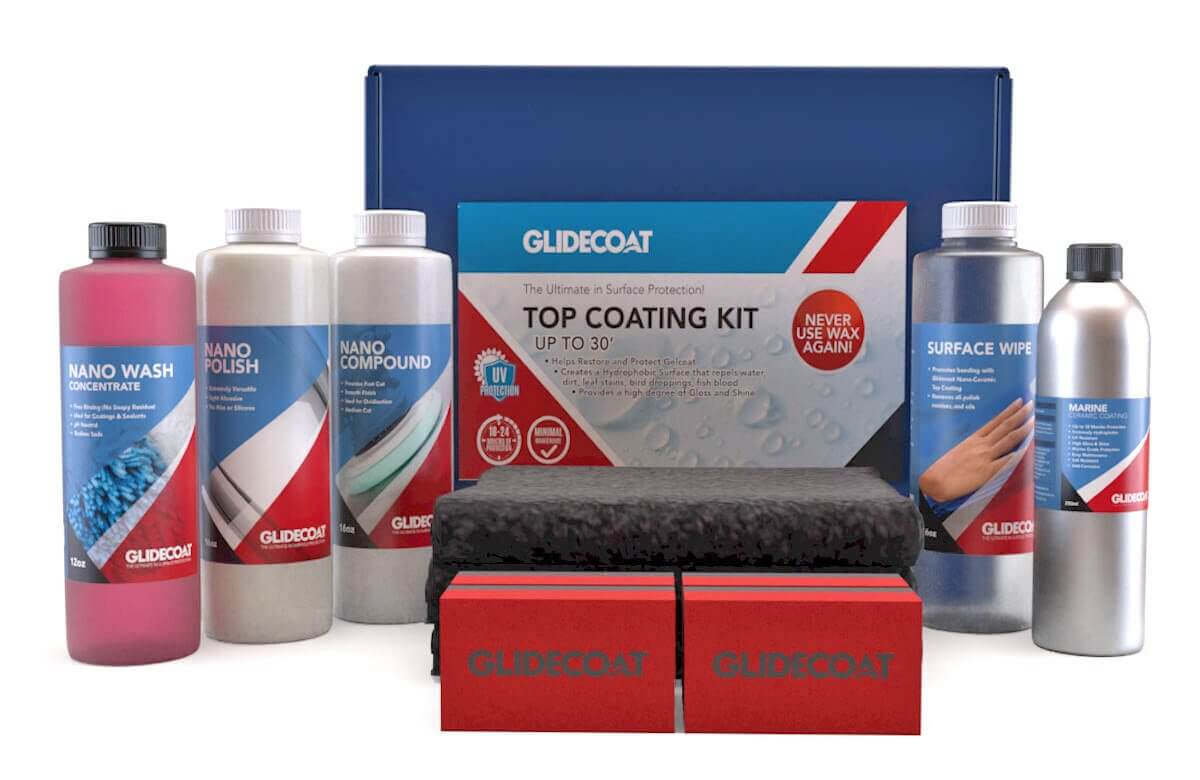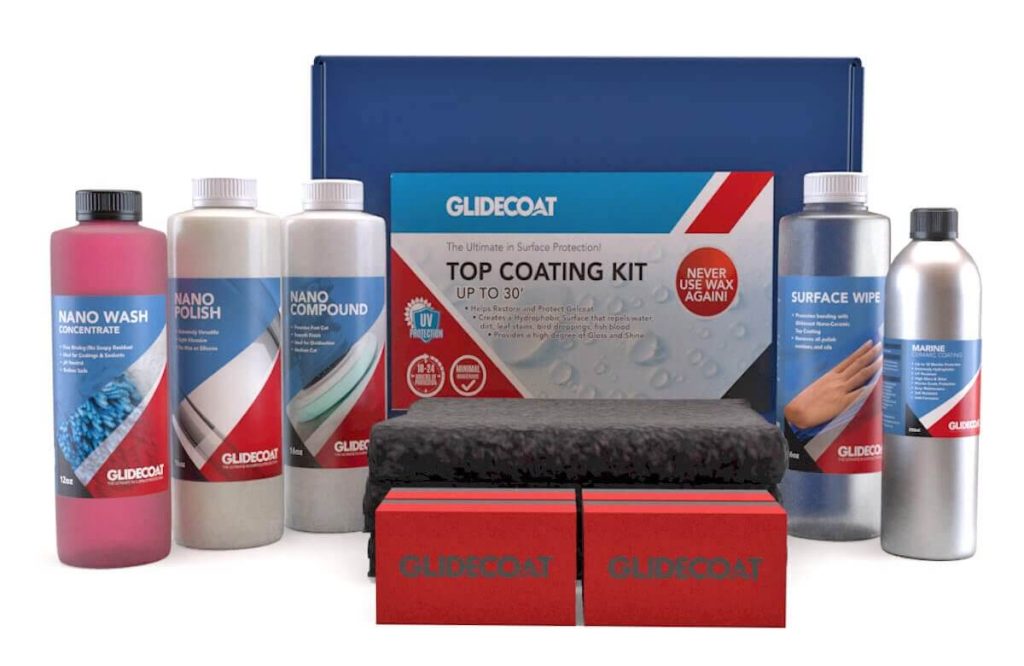 Glidecoat ceramic coating in Sarasota for boats uses nano-technology that SAVES Florida boats from being a real eyesore.
Its tried-and-tested products and process fill in microscopic pores and scratches on surfaces like marine gel coat, paint, and polished metals. This preserves or restores your boat's original color and shine; creates a smooth, hydrophobic surface (which means it repels water); and creates a diamond-hard finish that protects the surface, even in Florida's blazing summer heat.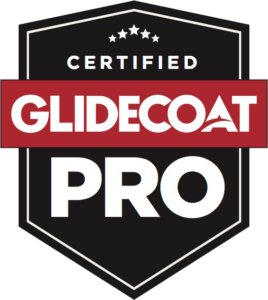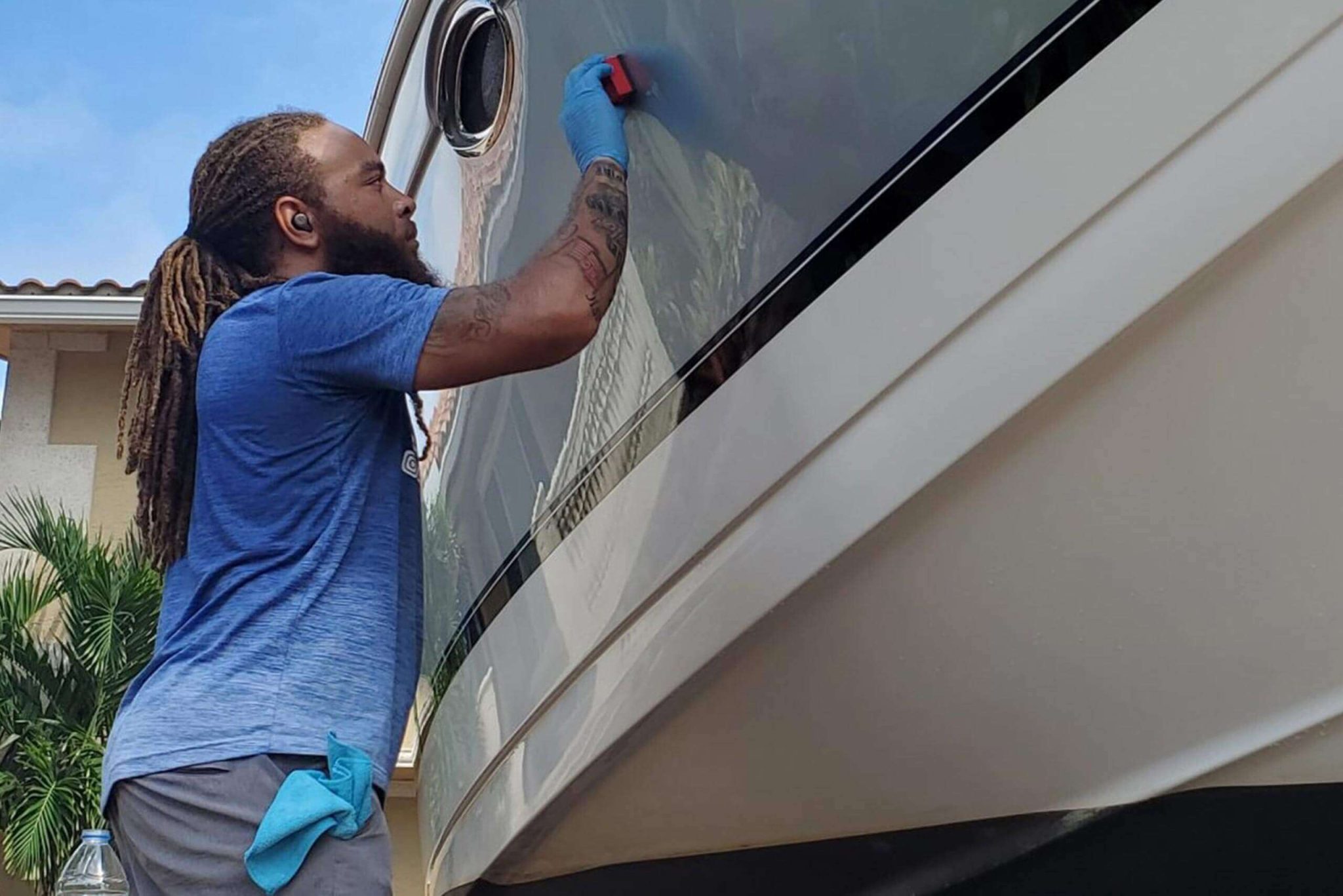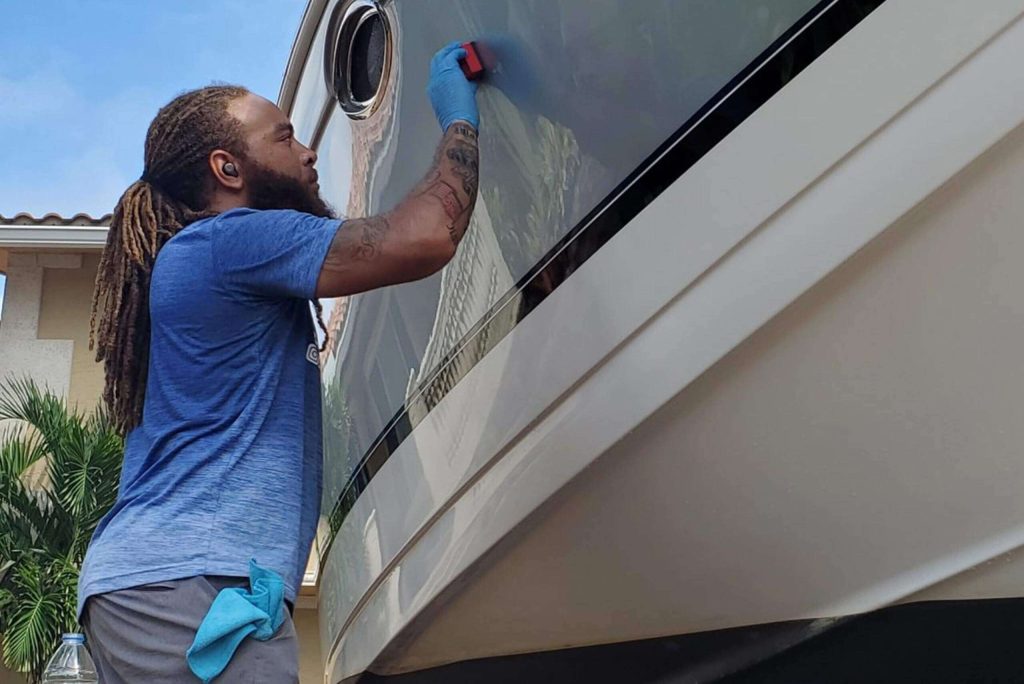 Once your boat has its newly protected surface with Glidecoat's ceramic coating, the need for maintenance is greatly reduced. Contaminants like dirt, salt, and fish blood just sit on top of your boat's surface instead of getting absorbed into its pores. Now, a simple rinse or light washdown/towel dry is all that's needed after use, leaving your boat just as shiny as the day it was coated.
Long-Lasting Boat CEramic Coating
After Glidecoat is applied, your boat is going to shine like it hasn't since it came off the showroom floor. That shine is measured in Gloss Meter Readings. And with Glidecoat, it lasts.
Plus, Glidecoat continues to build up the gel coat each time it is reapplied to your boat, which means more protection and even better gloss and shine as time goes on.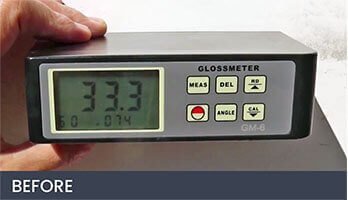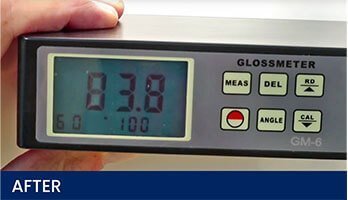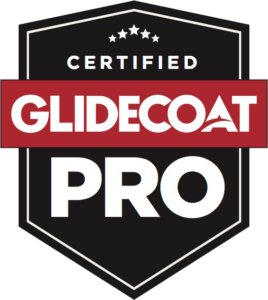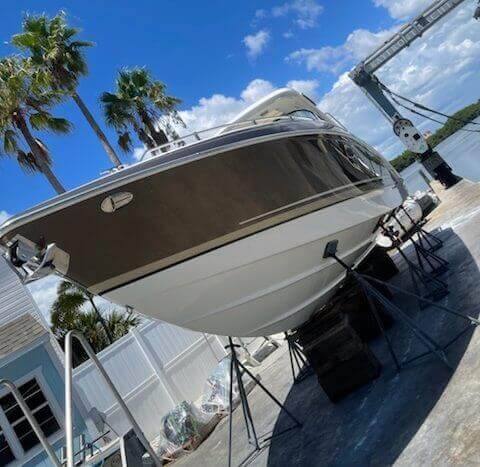 Perfect for New Boats, Too!
Don't wait for the elements to start cracking your boat's surface and dull its gorgeous showroom shine. If you've got a brand new boat, NOW is the time to protect your investment with Glidecoat's ceramic coating. In fact, a Glidecoat application within the first 3 months means your boat will keep its like-new look 6x longer!
Boat detailing in Sarasota Protects Fabrics & Vinyl
Glidecoat works for your boat's fabric, cushions, marine mattresses, canopies, and awnings, too. It:
Makes ordinary fabrics and vinyls waterproof, stain-resistant, and easy to clean
Prevents soaking, swelling, and rotting
Kills 99.9% of bacteria with its antibacterial technology
Lasts 5x longer than conventional water-repellent coatings.
Book us for your boat detailing now!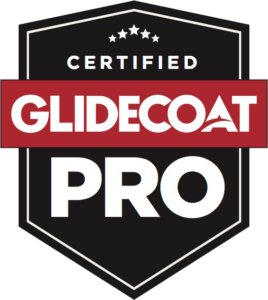 The Boat Concierge is a certified Glidecoat Installer serving boat owners on Florida's west coast, servicing Sarasota, Tampa and Naples.
We're ready to complete the 4-stage Glidecoat Professional Coating process in a safe and controlled environment.

After an initial assessment of your boat, we wash and prep the boat before carefully applying the exclusive line of Glidecoat products. This professional coating process completely restores your boat's surface and offers the ultimate protection available.
Reach out to The Boat Concierge today to get started.
HEAR WHAT OUR SATISFIED BOAT OWNERS AND CHARTER GUESTS SAY ABOUT US
What are you waiting for? Sail with The Boat Concierge now!
I am a snow bird that lives on Siesta Key. Gabriel and his crew take care of my two boats and my jet ski. TBC is there to have my boat ready when I come back in town from Maine and deliver my boat to my house freshly detailed from the marina. I have known Gabriel for over ten years and would recommend him and his crew to anyone.
Gabe and his crew make my boat time fun again. I've always owned the boat, therefore I'm always the one driving, fixing, and cleaning it every time we go out. With The Boat Concierge, I can do all of that - if I want to. But when I don't, I just call them and they become one of the crew. Then I can hand off all responsibilities (of boat ownership) and enjoy my guest's company on my boat without all of the work. The Boat Concierge is awesome.
Gabriel is much more than a local Sarasota fishing guide. He has lived and fished the Gulf Coast, from Louisiana to Key West for many years and has many resources beyond just fishing. For instance if you need your boat detailed, delivered to your dock, or secured when a hurricane is bearing down, he's your guy. Gabe is always helpful and courteous.
Gabriel was there for me when I took delivery of my first boat back in 2015 and has helped me ever since.
I have known Gabriel for over 10 years and would recommend he and his crew to anyone. They maintain my boats and jet ski. TBC is there to have my boat ready when I return from my summer home in Maine and deliver my boat to my house freshly detailed from the marina.