Sarasota, Florida, is renowned for its stunning coastline, crystal-clear waters, and abundant marine life. Exploring the waterways of Sarasota is an experience like no other, and one of the best ways to do so is by embarking on a boat tour. But have you ever considered taking your boat tour experience to the next level by enlisting the services of a boat concierge? 
In this article, we will explore the idea of going on boat tours in Sarasota with a boat concierge and delve into the incredible benefits that come with it. Let's begin!
Is It Worth Going on Boat Tours In Sarasota with a Boat Concierge?
Boat tours in Sarasota with a boat concierge services offer a worthwhile and unforgettable experience. These boat tours in Sarasota provide personalized services, local expertise, and a hassle-free adventure, making them an excellent choice for exploring the beautiful waters of Sarasota, Florida. With a boat concierge, you can enjoy a stress-free journey, discover hidden gems, and make the most of your time on the water. Whether you're a tourist or a local, these tours can enhance your Sarasota experience, providing convenience, comfort, and a deeper connection with the area's natural beauty.
5 Benefits of Going on Boat Tours In Sarasota with a Boat Concierge
Exploring Sarasota's coastal beauty on a boat tour becomes a seamless and personalized adventure with a boat concierge. Here are the five key benefits of this exceptional service:
Personalized Experience
A boat concierge provides you with a personalized experience tailored to your preferences. Whether you're interested in dolphin watching, fishing, exploring hidden coves, or simply basking in the sun, your boat concierge will customize the tour to suit your desires. This level of personalization ensures that your boat tours in Sarasota become an unforgettable memory uniquely designed for you.
Local Expertise
A boat concierge is not just a guide but also a local expert with an intimate knowledge of Sarasota's coastal treasures. They can share hidden gems, secret snorkeling spots, and the best times to witness breathtaking sunsets. You'll gain insights and stories about the area that go far beyond what typical boat tours can provide.
Safety and Comfort
Safety is paramount on any boat tour, and a boat concierge is trained to prioritize your well-being. They will guarantee that all safety measures are in place and that you and your fellow passengers have a comfortable and worry-free experience. You can relax and relish the scenery without a care in the world.
Exclusive Access
With a boat concierge, you gain access to exclusive locations and experiences that are often off-limits to traditional boat tours in Sarasota. From secluded beaches to pristine wildlife habitats, your boat concierge can take you to places that others can only dream of visiting, making your tour truly unique.
Stress-Free Planning
Planning a boat tour can be a hassle, from booking to coordinating logistics. A boat concierge takes all the stress out of the equation by handling every detail. They will organize the itinerary, cater to your schedule, and ensure that everything runs smoothly, allowing you to concentrate on the pure enjoyment of the journey.
Different Types of Boat Tours in Sarasota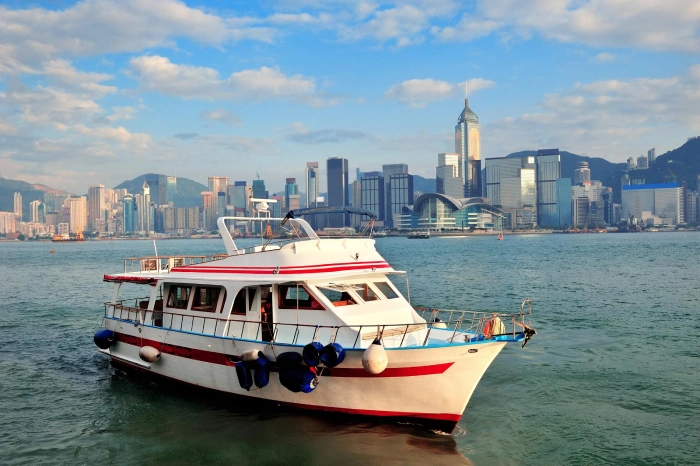 Sarasota, Florida, offers a variety of boat tours due to its beautiful coastal location, abundant marine life, and picturesque waterways. Here are some different types of boat tours in Sarasota you can enjoy:
Dolphin Watching Tours: Sarasota's resident population of bottlenose dolphins makes it an ideal location for boat tours. These tours provide an opportunity to witness these playful creatures in their natural habitat. Guests can enjoy a memorable experience while onboard, observing these marine mammals in the waters off Sarasota's coast.
Sunset Cruises: Sarasota's breathtaking sunsets over the Gulf of Mexico are best enjoyed on sunset cruises. These boat tours offer a romantic and serene evening on the water. As the sun sets, passengers can relax while listening to music and savoring light refreshments, creating a memorable and romantic experience.
Manatee Viewing Tours: Manatees, gentle giants of the sea, are a prominent attraction in Sarasota's warm waters. Manatee viewing tours offer an up-close encounter with these remarkable creatures. Guests can enjoy a boat tour designed to bring them in proximity to these endearing marine mammals, providing a unique and educational experience.
Eco-Tours: Sarasota's diverse ecosystems, including mangrove tunnels, estuaries, and marshes, are showcased in eco-tours. These boat tours focus on local wildlife and the area's ecology, guided by the expertise of the U.S. Fish and Wildlife Service. Passengers can explore the natural beauty of Sarasota while learning about the unique ecosystems and observing birdlife and other wildlife under the guidance of this respected authority on wildlife conservation and preservation.
Fishing Charters: Sarasota's popularity among fishing enthusiasts is well-known. Fishing charters cater to inshore and offshore fishing, targeting species such as redfish, snook, grouper, and tarpon. These boat tours are perfect for anglers looking to enjoy the intensity of catching fish in the abundant waters of Sarasota.
Kayak and Paddleboard Tours: For a more active and eco-friendly experience, guided kayak and paddleboard tours navigate through mangrove tunnels and waterways. These boat tours in Sarasota provide an opportunity to explore local wildlife and enjoy a serene and environmentally friendly adventure, all while staying close to the water's surface.
Siesta Key Tours: Siesta Key, a barrier island with its renowned white sandy beaches, offers boat tours that may include snorkeling, shelling, and beach hopping. Exploring Siesta Key's beauty from the water provides a unique perspective, making these boat tours an unforgettable way to enjoy this stunning destination.
Final Thoughts
These five benefits of going on boat tours in Sarasota with a boat concierge demonstrate how this unique and personalized service can elevate your experience. From tailored adventures to local expertise, safety, exclusive access, and stress-free planning, a boat concierge ensures your Sarasota journey is both memorable and hassle-free. Explore Sarasota's coastal beauty in the best way possible, and let these benefits guide you to an unforgettable experience. If you're ready to embark on a day trip, contact us now at The Boat Concierge.